Children's Dentistry in Beachmere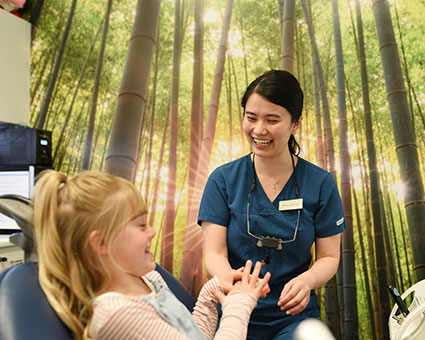 Our practice focuses on preventative dental care from a young age. By establishing a comfortable, prevention-based environment for children, we can limit the risk of common dental concerns and phobia in the future. Thankfully, most dental issues can be prevented as long as your child starts to see a dentist early on.
We partner closely with families to ensure their children have the resources necessary to enjoy a lifetime of healthy smiles.
Preventative Dentistry for Children
We recommend scheduling all children for an exam and clean every six months. These frequent visits allow us to pinpoint concerns before they grow into anything too complex. Depending on your child's age, we may provide preventative services like fluoride and fissure sealants, in addition to diagnostic X-rays.
'What if My Child Requires Treatment?'
It's important that your child is comfortable for their appointment, as early negative experiences may deter them from dental care in the future. Our practice offers happy gas (nitrous sedation) for paediatric dental treatments like extractions, dental fillings or even basic cleans. Everything your child needs can be completed here in our family practice.
Your Child's First Appointment
Plan to schedule your child's first checkup by age 2. While these first few visits may seem simple, they are essential for helping your child get used to the surroundings in a dental office. Erasing the mystery of dental care minimises the chances of anxiety in the future, especially after they hear stories from friends. In most cases, your child's earliest exam will just include a quick look. We strive to keep them as comfortable as possible.
Schedule Today
Book your child's first dental appointment while they're young to start a lifetime of great oral care habits. We'll show you how to care for their smile between checkups! Contact us today to reserve an appointment.

Children's Dentistry Beachmere, Bribie Island, Ningi, Sandstone Point QLD | (07) 5496 8579