Cosmetic Dentistry in Beachmere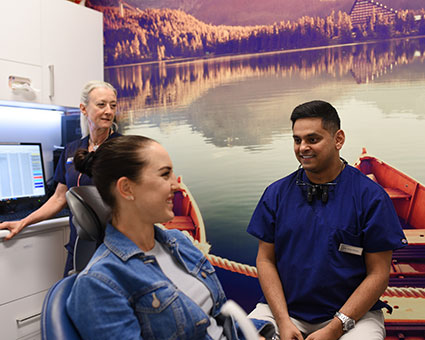 Considering a smile makeover? Enhancing the way your teeth look can give you the freedom to laugh around friends and family and make a great first impression.
Depending on what you'd like to change about your teeth, we offer a wide variety of cosmetic treatments to consider. Some are more than adequate on their own or you can consider combining them for maximum aesthetic results.
Teeth Whitening
Safely brighten your natural teeth to reveal a brighter, healthier-looking glow. We offer custom home whitening trays that are convenient to use. See significant results in just 2-4 weeks when used as directed. Erase years from your smile or jump-start your next aesthetic procedure.
Dental Veneers
Quickly enhance your entire smile with a set of custom-crafted ceramic veneers. Veneers are designed to enhance the shape, colour, size and alignment of the teeth in your smile zone. Ask about our trial smile preview option.
Invisalign Aligners
Comfortable clear aligners straighten your teeth without any metal wires or brackets. Invisalign systems are safe and discreet. Depending on your smile, some clients complete their treatment in as quickly as six months!
Same-Day Crowns
In-house milling technology allows us to streamline your ceramic crown appointment. Complete your restorative treatment in one visit, rather than two. Each ceramic crown is matched to your smile for both function and aesthetics.
Dental Implants
If you have missing teeth, dental implants offer a lifelike, durable tooth replacement that lasts for years. Implants are effective for single and multiple tooth or full-arch restorations for patients who qualify.
Flexible Financing Options
Make your dream smile a reality. Ask about our affordable financing plans with terms up to 12-24 months.
Reserve a Consultation Today
Discover how to achieve a healthier, more confident smile. Reserve your consultation with Beachmere Dental today to get started!

Cosmetic Dentistry Beachmere, Bribie Island, Ningi, Sandstone Point QLD | (07) 5496 8579