Same-Day Crowns in Beachmere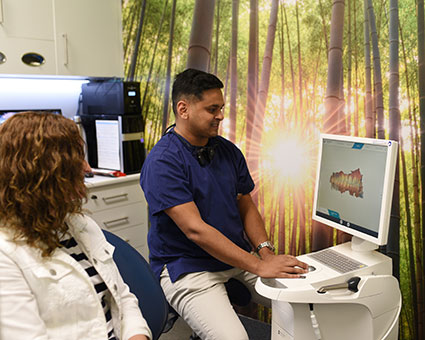 Dental crowns, also known as caps, are tooth-shaped restorations that completely encase teeth to restore their form and function. They are commonly used to protect and strengthen teeth with large fillings, teeth that are cracked, or teeth that have undergone root canal therapy. Crowns also offer cosmetic dentistry solutions for correcting the appearance of misshaped, misaligned, or discoloured teeth, or those with any imperfections.
Traditionally, however, they've always required at least two treatment appointments. At Beachmere Dental we have invested in state-of-the-art technology that allows us to streamline the care process for our patients, providing custom ceramic crowns in just one visit. This is done with a CEREC machine.
Beachmere Dental
is the only same-day dental crown provider in the greater Beachmere area.
Benefits of CEREC® crowns
No need for temporary crowns
Improved crown design with 3D image of the teeth
Same-day placement
More comfortable
Made of durable, attractive ceramic
Highly accurate fit
Since each of our same-day crowns are digitally milled using our CEREC crown milling machine, the accuracy of their fit is extremely precise with no moulds required. Designing everything on-site at one appointment prevents unnecessary errors, such as bad moulds or incorrect materials set to the lab.
What to Expect
In the past, getting a crown meant scheduling two visits about two weeks apart. Both required an injection and wearing a temporary crown in the meantime. Today, that's no longer the case.
Same-day dental crowns are custom milled from a 3D virtual scan of your tooth. After numbing and prepping your tooth, we use a high-resolution camera to record a digital impression. The image is sent to our software, where we design a crown from colour-matched ceramic. Your crown is milled on-site and immediately bonded into place.
Do I Need a Dental Crown?
Crowns are recommended when teeth are prone to fractures. Classic examples include teeth that are heavily restored with large fillings, cracks or recently received root canal treatment. Placing a crown over the tooth helps to reinforce the structure underneath, extending its overall function.
Reserve Your Appointment Today
Save time with a convenient, more comfortable crown option. Contact us today to learn more about our same-day restorations. We're the only area dental practice to offer this innovative service!

Dental Crowns Beachmere, Bribie Island, Ningi, Sandstone Point QLD | (07) 5496 8579