Dental Veneers in Beachmere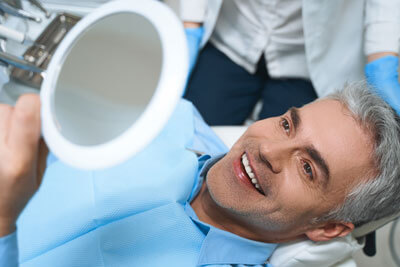 Are you unhappy with the shape, colour or size of your teeth? Veneers provide an excellent treatment option for a full smile makeover.
Dental veneers are crafted out of durable ceramic that is shaped to your preferences, then bonded over the front of specific teeth.
What to Expect at Your Consultation
During your initial consultation, we will complete a full assessment of your smile. We invite you to share your concerns, including what you like and don't like about your teeth. From there, we'll schedule an appointment to prep your teeth, creating a small space for the veneers to fit over them.
Depending on the size of your teeth, prepping may not even be necessary. Finally, we'll take a digital scan of your teeth then transfer your virtual mould to our laboratory.
Your dental veneers are designed in a local lab. Once they're ready, you'll return a couple of weeks later to have them fitted in place. In some situations—such as if major smile changes are involved—we may suggest a trial smile first. This mock-up will allow you to see what your teeth will look like. If at any point you are unhappy or want to make adjustments, we can do so before the permanent veneers are designed.
FAQ
How should I look after my dental veneers?
It's important that you look after your veneers as you would natural teeth. Make sure to brush them twice a day, floss daily and plan regular checkups. That way we can screen for any minor issues that can easily be addressed before they become a major concern. Do not use your teeth for anything other than eating, such as opening packages or biting your nails.
Like other dental restorations, a properly maintained veneer will last longer the better it's looked after. Ideally ceramic or porcelain veneers should last 10-15 years. Chairside composite veneers, however, are more brittle and prone to stain. They may only last a few years at a time.
Reserve a Consultation Today
Are dental veneers right for you? Contact Beachmere Dental today to request a consultation!

Dental Veneers Beachmere, Bribie Island, Ningi, Sandstone Point QLD | (07) 5496 8579