Dentures in Beachmere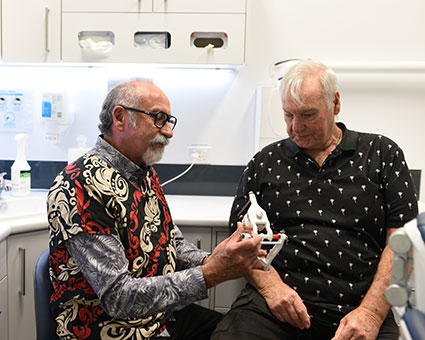 At Beachmere Dental, we're proud to offer custom, functional, and beautiful dentures to our patients who want to restore their smile to what it once was.
Unlike other practices in the area, the experience we curate for patients is incredible. For starters, we're happy to offer access to our Dental Prosthetist, who's a knowledgeable denture professional that's been restoring smiles for over 40 years.
What to Expect
We like to make sure our patients are aware that creating custom dentures is something we've been doing for years.
To begin the process, we invite you to schedule a consultation with us so that we can determine your candidacy for dentures. We'll do an oral exam to help us determine this. Patients who may be lacking adequate gums or bone may not be candidates for dentures, but we'll be sure to do everything we can to find the perfect treatment for you.
If you'd like to move forward with dentures, we'll decide which option is best for you. We're happy to offer a couple of options to fit your needs.
Partial dentures: Partial dentures are ideal for people who may be missing a few or several teeth. They're designed to be worn by hooking onto your natural teeth. They may be made of acrylic material or chrome cobalt.
Full dentures: Patients who are missing most of their teeth may be candidates for full dentures. Like partial dentures, they can be made of acrylic or chrome cobalt depending on your preferences.
The entire denture process will take about five visits to our practice, during which we'll take all of the necessary steps to ensure a perfect, comfortable fit with multiple impressions taken.
Frequently Asked Questions
Will I be able to speak and eat properly?
Absolutely. We pride ourselves on crafting custom-fit dentures for all patients, which means they aren't just functional, but comfortable.
How long will my dentures last?
This depends on how well you care for them. With proper care, dentures can last over 10 years.
No, we're happy to let you know that you can book an appointment with our Prosthetist directly with no referral required.
Just as you would your natural teeth. You should clean them twice each day with a toothbrush. If you have your dentures made with us, we'll also provide you with a free cleaning kit that you can take home, which includes tablets and a brush.
Learn More Today
If you're interested in learning more about dentures, we'd love to speak with you. Contact our team today to get started!

Dentures Beachmere, Bribie Island, Ningi, Sandstone Point QLD | (07) 5496 8579