Meet Dr Vishal Patel BDS BEng (Hons)
Discovering His Passion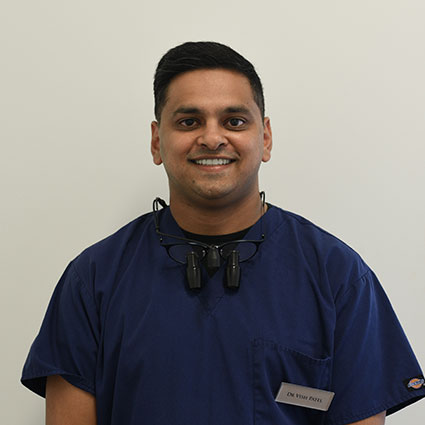 Dr. Vish was born and raised in London, where his interest in dentistry began. His dad's best friend had a dental practice next door, and Vish would often spend time there when he was growing up. He was fascinated by the technology involved, and drawn to the idea of being able to make a difference in someone's life. That calling led him to Peninsula Dental School in Plymouth, UK.
Providing Individualised Care
Dr. Vish loves practicing general dentistry in Beachmere, Bribie Island, Ningi, Sandstone Point because it offers him the opportunity to treat a wide variety of patients with different types of needs. Because each patient is unique, Dr. Vish takes the time to get to know every person as a person, rather than a condition. We love building relationships with our patients and providing care to generations of families.
Invisalign clear aligners give us the opportunity to provide excellent cosmetic results for our patients, and seeing a patient smile confidently for the first time is always a moment that Dr. Vish cherishes.
Dr. Vish wants you to understand every aspect of your care, so he takes the time to explain everything about your condition and what our treatment will entail, as well as how it will help. We never suggest any type of treatment that's unnecessary, and we will thoroughly explain all your treatment options. We encourage your questions, and there's never any rush. We want you to feel completely comfortable making the decision that is right for you.
EXPLORE OUR SERVICES

Away from the Practice
When Dr. Vish isn't at work, he's very busy at home with a young son who keeps him on his toes. In addition to spending as much time as he can with his family, Dr. Vish enjoys sports as well as cooking up a storm.
We'd Love to Meet You
We would love to welcome you into our practice. Contact us today to schedule your first appointment.

Dr. Vishal Patel | (07) 5496 8579