Invisalign in Beachmere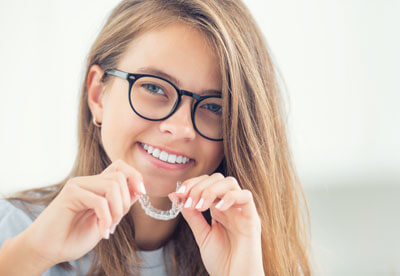 Invisalign aligners offer a clear, comfortable and discreet orthodontic option for adults and teens. These removable aligners simply slip off your teeth, nudging them into the desired position. No wires or metal brackets are required.
The Invisalign system is the original clear aligners alternative to traditional braces. They work well for our patients who have healthy teeth and gums but are unhappy with the alignment of their smile.
Treatment Time Frame
Every person's smile is unique. Depending on your bite alignment, cases can be completed in as quickly as six months. Others that are more complex may require 12-18 months or more. Typically, Invisalign trays offer quicker results than traditional braces.
During your consultation, we will evaluate the alignment of your teeth to estimate the overall time frame of your treatment. A scan of your bite will be sent to Invisalign labs, which will then return a proposed digital treatment plan with a more accurate time frame.
Advantages of Invisalign Therapy
There are no major restrictions for Invisalign treatment. Any adult or teen with a generally healthy mouth will qualify. Since these aligners are more comfortable than metal systems, they're easier to adjust to and won't interfere with your daily activities.
Invisalign patients can easily remove their aligners for daily home care or when eating. There are no restrictions since the trays are removable.
In addition to the quicker and more comfortable timeframe, Invisalign trays' discreet design makes them a preferred solution for our adult patients. Their translucent appearance makes them practically invisible during everyday conversations.
FAQ
How long do I have to wear my aligners each day?
The more you wear your Invisalign trays, the quicker your teeth will respond to treatment. We recommend wearing your aligners at all times and only removing them when you are eating or cleaning your teeth.
How should I care for my Invisalign trays?
Clean your aligners regularly with lukewarm tap water, a toothbrush and antibacterial soap. Take care not to use abrasive toothpaste or hot water, as these can permanently alter the trays. When you aren't wearing your aligners, store them in a protective case out of the reach of small children or pets.
Why should I get Invisalign treatment?
Anyone who is not happy with the position of their teeth can comfortably straighten their smile with the Invisalign system. Issues such as crowding, gaps or misaligned teeth can all be addressed.
The Invisalign system uses mapped aligners that—when changed out as directed—nudge your teeth into a slightly straighter position with each new set.
Payment Plans Available
Enjoy convenient interest-free financing for 12-24 months on all Invisalign treatments.
Contact Beachmere Dental today to get started.

Invisalign Beachmere, Bribie Island, Ningi, Sandstone Point QLD | (07) 5496 8579