Teeth Whitening
in Beachmere
Achieving a brighter smile can help to complement your teeth's natural appearance without any extra dental work. We offer custom take-home kits using the Boutique Whitening system that provides amazing results in the comfort of your own home. The Boutique Whitening system is 60 times stronger that non-professional products. The formula is safe, easy to use, and promises stunning results within two to three weeks. 
Why Whiten at Home?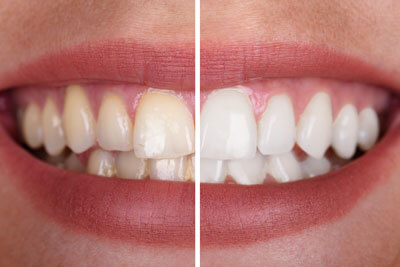 Teeth whitening is a safe and predictable way to enhance your smile. Quite often, it's used independently or alongside other cosmetic procedures. With our take-home professional system, you can enjoy perks like
Whitening your teeth at a time that suits your schedule
Better control over tooth sensitivity
The ability to easily top off for upcoming events
Trays that last for years (simply purchase gel refills when needed)
How Professional Whitening Kits Work
We'll take a set of moulds of your teeth to fit your smile with a custom pair of whitening trays. When they're ready, we'll give you specific instructions on how to apply the gel and wear your kit at home. Usually, it's for about an hour a day. If you have sensitive teeth you may prefer to whiten less frequently or apply sensitivity toothpaste between applications.
The ingredients in the gel safely oxidise stain particles, lifting discolouration from your enamel. Professional whitening gel is safe for deep stains caused by foods and drinks as well as natural tooth discolouration.
Used as directed, a home whitening system can provide drastic results in 2-4 weeks. Much of it will depend on your diet, as dark liquids—such as tea, coffee or red wine—may delay treatment. If for any reason you need to top off at home and are out of gel, you can purchase a refill from us as needed. There's no need to re-make the moulds.
Take That First Step Towards a Gleaming Smile
Enjoy a brighter smile in just a couple of weeks. Contact our office today to book a visit to have your teeth whitening trays made.

Teeth Whitening Beachmere, Bribie Island, Ningi, Sandstone Point QLD | (07) 5496 8579